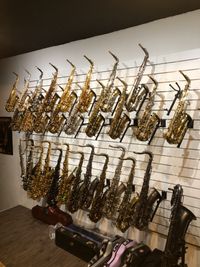 The saxophone is not a cheap instrument. Compared to a ukelele, cajon and some acoustic guitars, buying a saxophone will probably make you feel the pinch. My general rule is, anything brand new below $1000 SGD (700 USD) is usually going to be a red flag. This is because the saxophone will likely be made in China. I have nothing against them, but I feel that the workmanship can be a little shoddy and it does not hold up well with time. At my saxophone shop, we give a one year warranty on every saxophone purchased, so selling a cheap saxophone will cause us lots of additional costs because my customers would be coming back for repairs every other week! 
New or Used?
I would usually recommend that customers get a new saxophone as their first saxophone. The common school of thought is that in order to cut costs, one should look for a second-hand instrument. Now on paper, a used instrument might look cheaper. However, you are likely buying a used saxophone from someone who is looking to get rid of it quickly. Would they send it to a repairman beforehand and pay good money to get the saxophone perfectly adjusted? I don't think so. Would they tell you everything thats wrong with the sax? If the price is too good to be true, it usually is the case. 
Beginning to learn the saxophone can already pose enough challenges. Learning on a saxophone that doesn't play well, is setting yourself up for disaster. So let's say you buy a used saxophone, you will still have to factor in the cost of:
- time taken to research on the best repair shop in your area
- travelling down to the repair shop
- paying for the servicing
- waiting for the servicing to be done
I have also had many situations when customers bring in a saxophone to our shop to get serviced, and the instrument is totally UNPLAYABLE! Worst still, the quote for the overhaul costs more than the price of the sax! They would have been better off getting an affordable brand new instrument that plays great out of a box and comes with warranty. 
I think looking at used saxophones would be a better option when a player is able to play throughout the entire range of the saxophone, so that they can at least test the instrument that they are buying. 
Student or Professional Model?
Now the next question would be: should I be a cheap or expensive instrument as my first sax? My advice would be to find the best saxophone within your budget. Everyone's budget is different, but I think a good place to start would be half to one month's salary as your max budget. 
Once you have decided on a budget, the trick now is getting the most bang for your buck. I have played and owned many saxophones in my life, and some were incredible steals and some were overpriced.  Brand name saxophones like Selmer, Yamaha, Yanagisawa and Keilwerth have been mainstays in the saxophone world for a long time. There are people who love them and hate them. I would say that buying any one of those saxophones, you will be getting the sax at fair value. The amount you pay, directly co-relates to the quality of make and sound you will get. If you want a sax that punches above its price point,Taiwan-made saxophones might be a good place to look. 
Taiwan-made Saxophones
Cannonball, Ishimori, Forestone, Eastman and Trevor James are some examples. I generally prefer the horns of American, European or Japanese companies which outsource their production to Taiwan. Unlike companies like P. Mauriat, Lien Cheng, Sahduoo, TK Melody etc. which are Taiwanese companies. Although their instruments play great too. 
I think sometimes people look down on these saxes because they don't manufacture their saxes in their home country. But who really does? Even brands like Selmer and Yamaha are making some of their horns in China and Indonesia. 
The one good thing about some of these Taiwan-made saxophones, is they have a strong design philosophy, and a darn good team of repair specialists to go through everyone of these saxophones. 
Ishimori in Tokyo Japan, has been one of the most respected shops in the world for a long time, partially because Mr. Ishimori and his team are are amazing saxophone technicians. So they are getting saxophones made to their unique specifications, and hand finishing each saxophone back in Japan. The same goes for Trevor James, where every single saxophone is serviced and tweaked to perfection before it leaves England. For the Signature Custom models, not a single saxophone will leave unless it has been worked on by Technical Director and Designer David Farley himself. That's real passion and commitment. They do not care if it means they cannot fulfil orders as fast. Companies like this put quality before anything. 
Great Value For Money
Trevor James have been one of the most popular saxophones in recent years due to the points above, as well as their price point. They have decided to keep their prices REALLY reasonable, and most customers still are amazed but how their saxes are not more expensive. The main reason I love them is because they really punch above their weight class. For the quality of sound you get in a Trevor James saxophone, you would have to pay 2-3 times more if you were purchasing from another brand. Of course there are people who will swear that they don't compare to a Yamaha or Selmer etc. However for someone who wants to get more than what they pay for, TJ definitely fills that gap. 
Now What?
You might be feeling overloaded with all the options you have. I think most importantly is, buy an instrument that is going to make you really excited to play and practice. If you've always dreamed of owning a silver-plated saxophone, GO FOR IT! Find one that is within your budget. Don't compromise just to save a few bucks. Life is too short. 
It has been a passion of mine to help saxophonists find the best gear at the best price for them. Since you have read all the way to the end, I will offer you something that hopefully will make this decision of buying a saxophone easier for you. Send me an email stating your budget, and I will reply you with all your available options. Check with me if you are unsure about a particular model and its price. ANYTHING! Just please check with me first and I will assist you to the best of my knowledge. It's been so rewarding hearing from people who are so happy with the equipment I have recommended them. BONUS: If you buy a saxophone from my shop, I will throw in a free 1-1 lesson for you :)